Southeast Texas Recipes
Cook Your Locally Harvested Pork Loin
Are you interested in teaching your kids to cook?
Our children often express the most interest in cooking fish and game they harvest on our adventures.
A few notes on making our recipes your own.
Whenever we share a recipe, look at  it as a platform to build from. Feel free to add your favorite spices or move a recipe from the grill to the oven or from the oven to the smoker.
When I am cooking pork in the oven, I don't like the pork to sit in its own juice. That is a personal flavor preference. I put it on a roasting pan with a rack and let the juice drip into the pan and away from the meat.
Herb Rubbed Pork Loin
I got a lot of my culinary influence from a group of older gentlemen at the fish camp who liked to say about any recipe, "First you saute some onions and garlic". Their influence remains with me today.
One pork loin

One small onion

(5) cloves of garlic

Juice from one lemon

⅓ cup olive oil

Tony Chachere Cajun Seasoning

Garlic Salt

Aluminum Foil
Preheat the oven to 250 degrees.
Use your blender to create a marinade with the olive oil, garlic cloves, lemon juice, and onion. Do you have an herb garden at your home? Feel free to add your favorites to the marinade.
Take a piece of aluminum foil. Give it a light coating with spray oil. Place your pork loin on the foil. Pour the marinade over your pork loin. If needed, hand rub it to coat the entire piece of meat evenly. Wrap in foil to seal in the juices. Optional: Return to the refrigerator for a couple of hours to let the meat soak up the flavor.
Place the meat on the rack in your roasting pan. Poke holes in the bottom of the foil with a fork to let the juices drip out and away from the meat.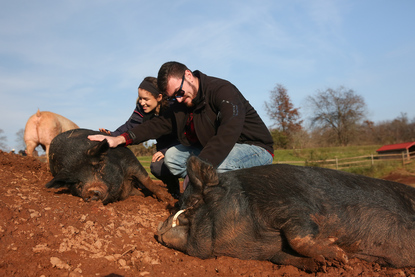 After 90 minutes, test the temperature at the center of the pork loin. Your ideal temperature is 145 degrees. If the ribs are thicker or store bought, wait until the two hour mark to check the temperature.
We served this pork loin with rice and roasted vegetables: asparagus, carrots, and cherry tomatoes. We put each vegetable separately in a large bowl and mix in olive oil and salt.  We put the vegetables on a single layer and roast at 350 for about thirty to forty five minutes. You can add a little sugar or cinnamon to the carrots or a little balsamic vinegar to the asparagus.
Feeds four – five. Store bought pork loins are typically larger and will feed more people.
One of the things I like about this recipe is that it is not too different from the way a minor French or German nobleman might have enjoyed wild boar after a successful hunt in the 15 or 1600s.