Family Activity Guide 
Treat the Kids to Campfire Cooking
If your family enjoys time around the campfire, take it up a notch by adding cooking.
At its most evolved, campfire cooking is an art. A master can create a perfect rib roast, sweet potatoes, caramelized brussel sprouts, scratch biscuits, and peach cobbler for a single meal.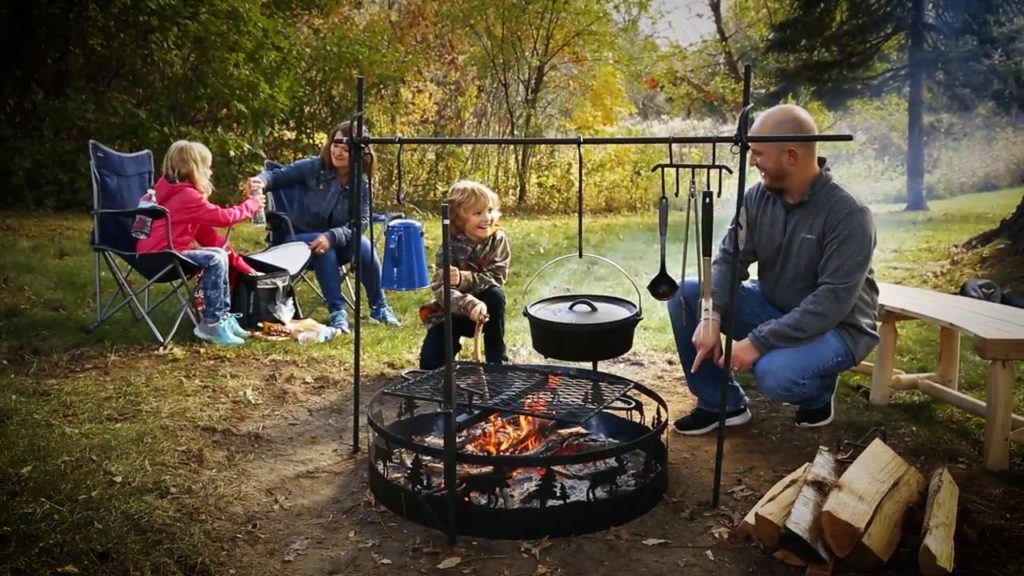 Most of us would be wise to start simpler, particularly if you don't already have a collection of cast iron and accessories.
Here are a couple of safe ideas you can start with using what is already in your kitchen.
First you need some kind of surface to cook from. You can order something "perfect" online, but you can get started by taking the grill off your barbecue and balancing it on a couple of stones over your campfire. The main thing is having it pretty even and stable.
There is no easy way to turn the fire up and down, so you will mostly be regulating heat by moving your food closer to the fire or farther away.
Zummos and Baked Beans
Zummo's Party Time Links or your favorite sausage

1 family sized can of baked beans

1 squeeze of ketchup

1 squeeze of mustard

2 shakes of Tony Chachere's Cajun Spice

1 tablespoon of Brown Sugar

Package of tortillas (corn, flour, or gluten free flour)
This one has two things going for it – it is easy, and everyone can participate.
Empty your baked beans into a skillet. Cast iron is great, but not mandatory. Add a squeeze of ketchup and mustard and two shakes of Tony Chachere's. Stir. Place on the grill over the fire. 
Give each child a sausage on a stick, let them cook it to their desired level of crispiness.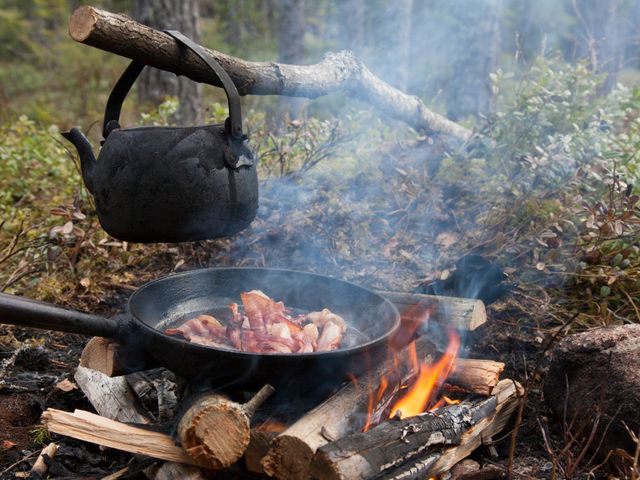 Warm the tortillas in a single layer on the grill over the fire. You will love the new flavor and texture they pickup.
Wrap the links in a tortilla. Add condiments as desired. Serve with baked beans.
Easy Campfire Breakfast
There are more elaborate versions of this breakfast, but we are going to stick with the "easy".
You'll want three skillets for this one and probably a helper to provide an extra set of hands if needed.
Pan 1 Scrambled Eggs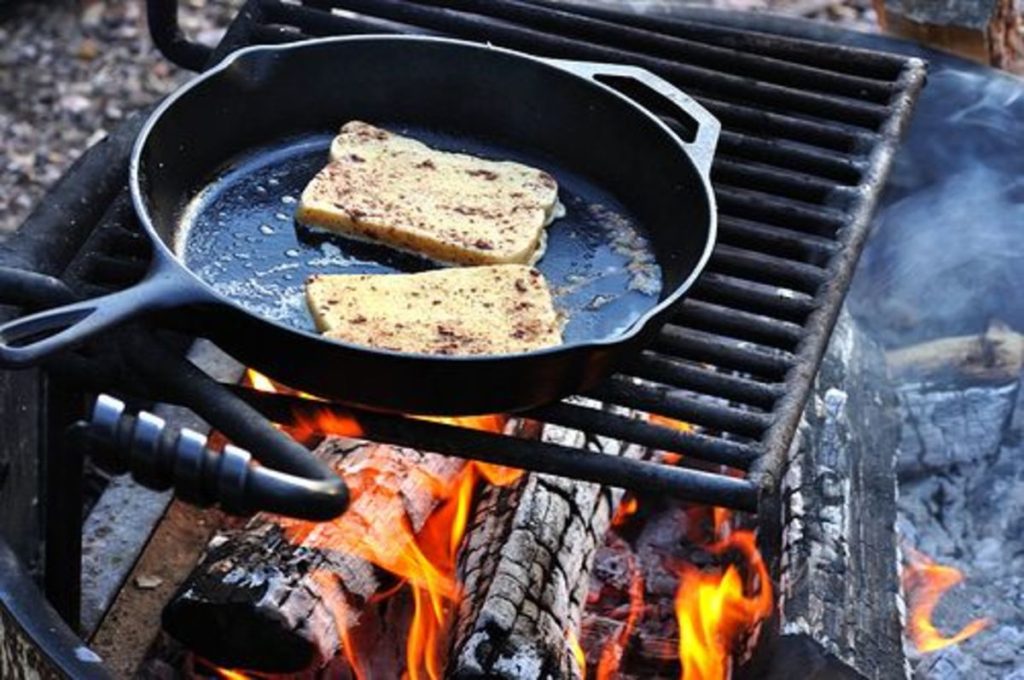 Two eggs per person

Two tablespoons of milk or cream

Salt and Pepper

1 tablespoon of oil or butter
Pan 2 Hashbrowns
1 package of frozen hashbrowns

Vegetable oil
Pan 3 Camp Toast
1 loaf of bread

1 stick of butter
You can skip reading the rest of the recipe if all the light bulbs have already gone off.
For the scrambled eggs I like to mix in milk or cream while I am beating the eggs. When I was little, my mom told me it made the eggs lighter and fluffier. I believe her. I actually salt and pepper them twice, once while mixing the eggs and another time right before plating.

There is no mystery on the hash browns. Heat an appropriate amount of oil. Add the hash browns. Remove from the heat when they are crispy enough for you. Salt and pepper. I prefer a bag that also includes onions or onions and garlic. Believe it or not, I used to always cut my own potatoes until we went camping with one of my son's teenage friends who showed me how much easier and faster it was to work with the frozen hash browns.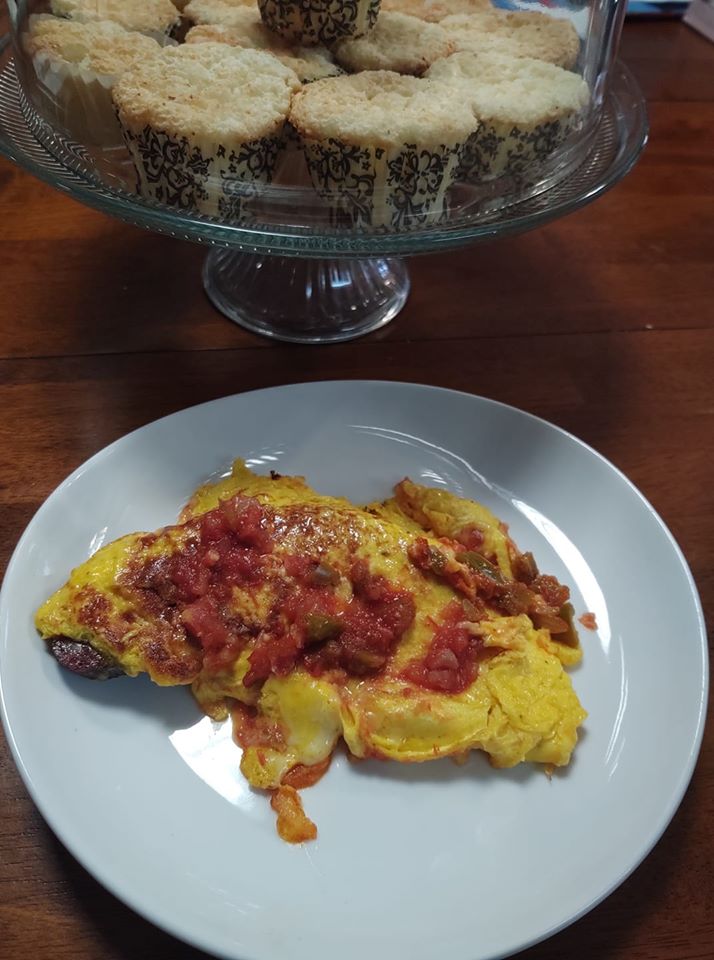 I didn't discover camp toast until I was married. My kids asked for it after they returned from an RV adventure with my in-laws. I always try to honor their breakfast requests, so I had to call my mother-in-law for instructions. Melt a tablespoon of butter in a pan. As soon as it is melted, drop in your pieces of bread. Check frequently to see when the first side reaches your desired crispiness. Remove from the pan. Melt another tablespoon of butter and then toast the other side. Experiment each time with the proper amount of butter to get it the way your family prefers it. Use to make an egg sandwich, toast and jelly, or enjoy it as is. It is much richer than regular toast. You just might fall in love.
After you have made this once, you can tweak or change to your preferences. Add bacon, ham, or sausage as a side dish. Add salsa, cheese, fresh vegetables, chorizo, or jalapenos to the scrambled eggs. Serve with tortillas instead of toast and make breakfast tacos. Take a grater and shave your own hash browns from scratch.
We hope this gives you a couple of opportunities to experiment with campfire cooking. If you decide you like it, there are a number of Facebook groups that can help you take your campfire cooking skills to the next level.