Southeast Texas Family in the Outdoors
Wild Boar Hunt and Recipes
Outdoor families in Texas have tremendous options when it comes to finding wild game.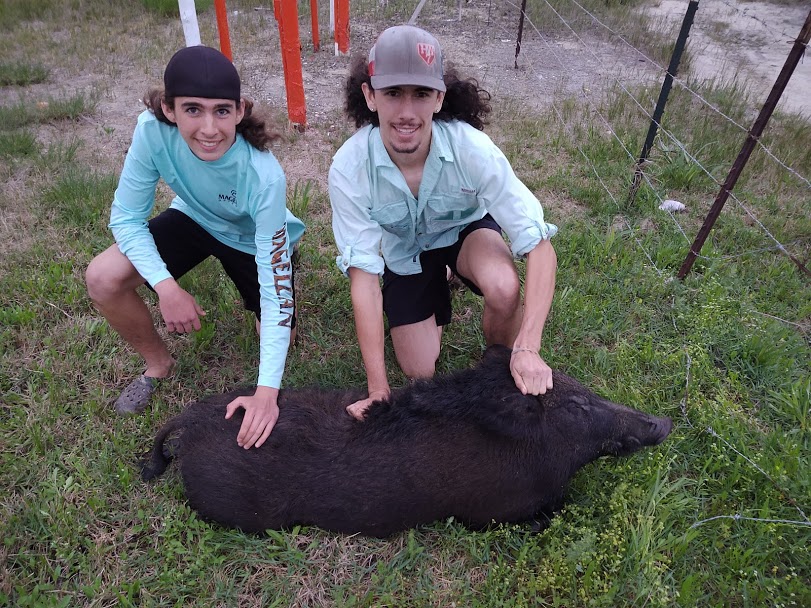 Most of us are a short drive from saltwater and freshwater fish, deer, ducks and geese, squirrels, rabbits, and a host of other edible species.
One of the most plentiful local game species is also among the most delicious. Wild boar are a nuisance species wrecking crops and landscaping across much of the state.
Feral pigs seem to be everywhere, until you are looking for them. They can be a crafty prey and seem to move on just before you plan to hunt or trap them.
Often hunters have success harvesting hogs during deer season when they come to deer feeders.
Savvy hunters often try to harvest a deer and a sow on the same trip. The fat from the pork perfectly offsets the lean of the deer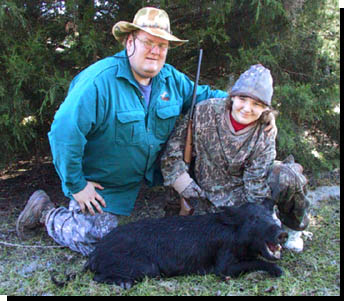 meat in sausage or ground meat.
Many Texans specialize in hunting hogs with teams of dogs and even specialized vehicles for tearing through swamps and muddy pastures.
Landowners often will give you permission to hunt or trap hogs on their property for free. Be very respectful of their property, fences and gates, and any other game species they do not want you to hunt. Keep access by coming back with packaged sausage or another appropriate thank you gift like a restaurant gift card or a cool knife. If you are ever in Spurger check out TKC Knives at Mott's Supply for the nation's largest Case knife display or visit them online at tkcknives.com.
Many Texas hunters keep young pigs and sows but throw away mature boars. Use your best judgement, but some boars are absolutely fantastic table fare.
We recently harvested a boar near Sabine Pass. My son shot him at about forty yards with buckshot. The antique shotgun was a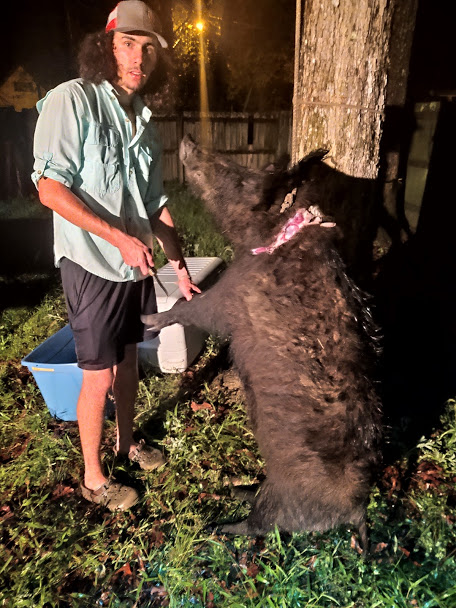 gift from my father-in-law, and we had just recently gotten it refurbished by Pineywoods Gun and Gunsmithing in Jasper. The pig was over 100 pounds and perfectly clean. My oldest son cut the throat and removed the testicles immediately after confirming the beast was dead. We covered the carcass with ice.
It was an hour drive to the house. As soon as we got home, my son used his lariat to hoist the boar from a limb in our backyard. We skinned and gutted the animal. Several times during the cleaning process, we commented on how clean the animal was – his coat and even feet were immaculate other than some sand from dragging him to the truck. Finally, we hosed off the blood.
After the skinning, we put the boar on ice overnight and let any remaining blood drain out of the meat. The next day, my son took the meat to his grandfather's. He came back with two large pork loins, two racks of ribs, and about thirty-five pounds of pan sausage. He left an equal amount of pan sausage with my in-laws. That is a lot of free range meat!
We cooked the pork loin two different ways. There was no "wild" flavor, just delicious pork.
We eat a lot of homemade breakfast tacos using whatever ingredients we have on hand. Today I made them using yard eggs from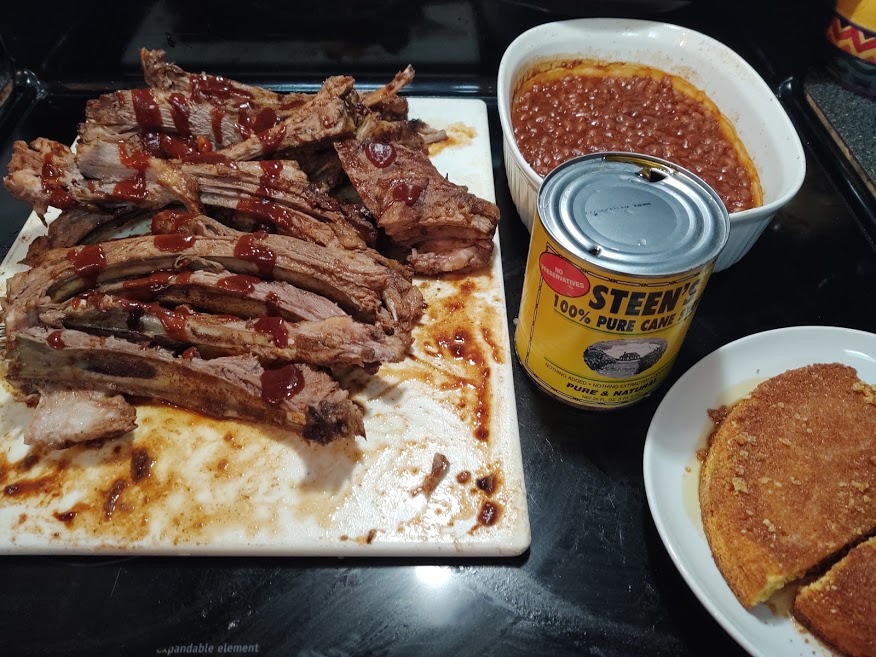 my son's chickens, wild boar pan sausage, and refried beans my wife and I made. I had them on corn tortillas, and they were delicious.
I believe ribs are made to be smoked or grilled, but my youngest son likes them cooked in the oven. I gave in and made them that way for him.
A few weeks before this adventure, my father in law had some young wild pigs he'd been given. He invited over some of the kids from our homeschool group and took them through the entire process. They killed the pigs, bled them, and skinned them. My in laws then showed the kids how to make the secret family pan sausage recipe. It is very good, but probably does not have to be a secret. It includes measurements like "a pinch", "scant tablespoon", and "smidgen". Good luck replicating it. They also made "cracklings" with the kids. My dad came up from Kennard for the day and we took two of the pigs and smoked them at the fire station in Kennard. I found out later that my wife's grandparents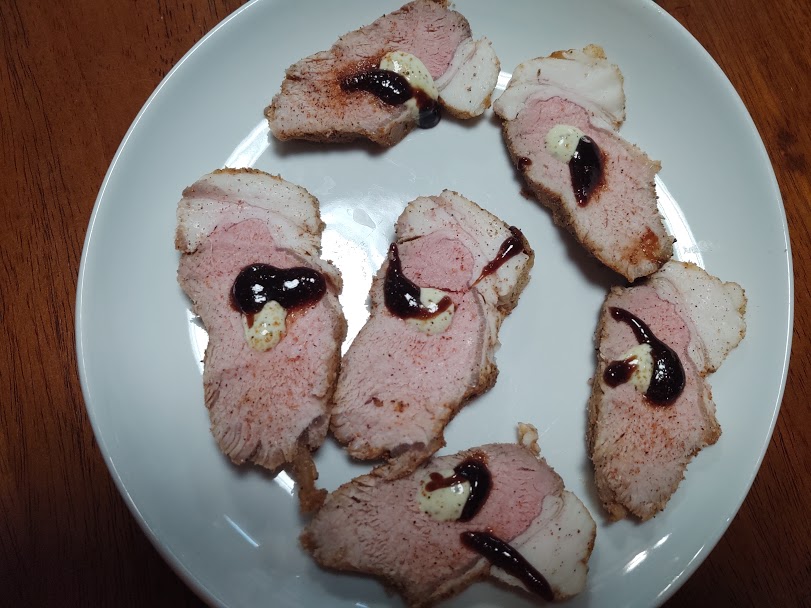 actually made the smoker and donated it to the fire station a generation ago.
Later in the afternoon, we had a family and friends feast of pulled pork, pan sausage, and cracklings. Each dish was excellent and reminded us how much you can do with a pig – and we hadn't even made bacon or tamales!
If you enjoy hunting and are looking for an adversary you can target year round, wild pigs are an excellent option.
Sows and young pigs are delicious, but the right boar can offer a wonderful culinary treat on the smoker, grill, or oven.
Do you have some favorite stories or images of being in the outdoors with your child? Share them with us: SETXAdvertising@gmail.com.
Author:
Daryl Fant
Publisher, Southeast Texas Family Magazine
(512) 567-8068